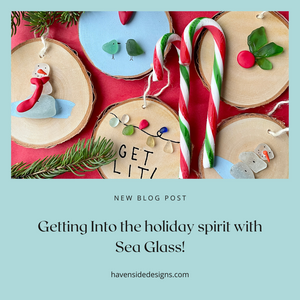 I found a great way to get into the Christmas Spirit! Take your holiday decor out early, is November 15th too early? I don't think so! When I was growing up, my grandparents would always decorate for the holidays by putting those old light up candles in the window and decorating their buffet with ornaments and little holiday items they collected throughout the years. I remember anytime I would visit them, it was always such a joy seeing their Christmas display. It was so cheerful, bright and warm. Who wouldn't love that feeling right?I often wonder, did other peoples parents or...
---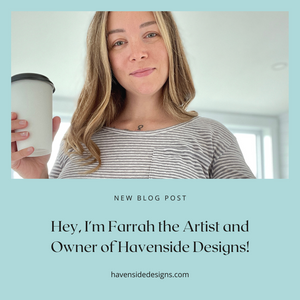 Hey friends, my name is Farrah! I create and design Sea Glass Art in Cape Breton, Nova Scotia. I'd love to share a glimpse of what my day to day looks like as a small business owner. A bit about my story as a Sea Glass Artist, I have been working with Sea Glass as a visual artist since 2014. Although you won't find my art on Etsy, you can find all of my new and past are here on my Havenside Designs website. I'm inspired by the beach coastlines here on Cape Breton Island. The sweet little Sand Pipers who wade...
---
Hello, hello and hello! I'm back officially, it feels so great to come back to the artwork I love so much. As many of you might have noticed I have been away for the last couple of months and I am finally feeling ready to return to my artwork and the Sea Glass community. I'd like to share with you all why I have been away. I love my little community and I feel comfortable sharing this with you. My beautiful and loving Grandmother passed away in September. She was very strong willed and although she had not been well for some...
---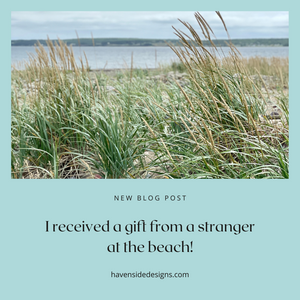 This past Friday was a busy day for me, my plans for the day were: Visit the beach, work on seaglass and prep for my very first Facebook live event! It was an absolutely perfect day and let me tell you, a shocking one! I was given a gift by a complete stranger at the beach! I need to share the story with you, this small act of kindness meant so much to me. I hope to return this act to someone else in the future.  On Friday, arriving at the beach I was so happy to have made it....
---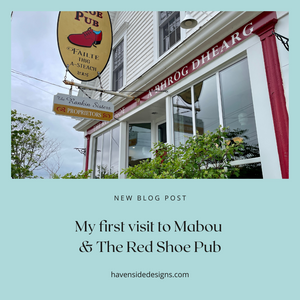 Last weekend Nick and I decided we would do a day trip out to Mabou. I have dreamed of visiting for years along with the renowned Red Shoe Pub! Mabou is a little village, located on the western side of Cape Breton Island. It truly is a magical place, bustling but quint. The drive in reminded me of scenes from a movie, it was like driving into another world. The winding roads were surrounded by tall trees, different from the rest of the island. I imagine this would be a very beautiful drive during winter. As we drove into Mabou...